Rotary Table XXL
Super Large Rotary Table – Extra Large Capacity Heavy Duty Tables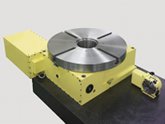 Tables up to 79† (6.58feet) diameter!
Can be used in vertical or horizontal position
Up to 22046 lbs vertical work load capacity!
Up to 66139 lbs horizontal work load capacity!
Lyndex-Nikken large CNC rotary tables feature high accuracy, heavy duty work load capacity, and powerful clamping torque.
They are ideal to meet aerospace, automotive, power generation, oil tool and heavy equipment industries manufacturing requirements.
Model

Diameter of Table
inch (mm)

Clamping Torque
lbs.ft(N.m)

Rotation Speed
RPM

Indexing accuracy
(standard)

Indexing accuracy
(Ultra precision)

Max. work load
lbs(kg)

vertical

horizontal

CNC802

31.49"

(800)

5162.2lbs.ft

(7000N.m)

5.5

15

+/- 3

3306.9lbs

(1500kg)

6613.9lbs

(3000kg)

CNC1000

39.37"

(1000)

13274.3lbs.ft

(18000 N.m)

5.5

15

+/- 3

-

15432lbs

(7000kg)

CNC1200

47.24"

(1200)

13274.3lbs.ft

(18000 N.m)

5.5

15

+/- 3

-

15432lbs

(7000kg)

CNC1201

47.24"

(1200)

13274.3lbs.ft

(18000 N.m)

2.7

15

+/- 3

14330lbs

(6500kg)

28660lbs

(13000kg)

CNC1600

62.99"

(1600)

25811.2lbs.ft

(35000 N.m)

2.7

15

+/- 3

22046lbs

(10000kg)

66139lbs

(30000kg)

CNC2000

78.74"

(2000)

25811.2lbs.ft

(35000 N.m)

2.7

15

+/- 3

22046lbs

(10000kg)

66139lbs

(30000kg)
Contact us for more information: (847) 367-4800